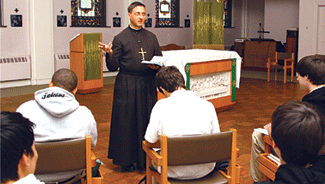 Many parents opt for the parochial high school route for their child, occasionally even selecting an institution outside their own religion. Rosemary Carroll,the director of development at New Brunswick Theological Seminary and a mother of three grown sons, says there are several reasons for this. Here's her take on the subject:
For some parents, it's tradition. If we went to religious schools growing up and it's familiar, we send our children.
Religious schools offer grounding in religious/moral/ethical formation, along with an academic education. They're for those families who want to raise their children in their religion. The children can learn more in the religious classroom environment than by just attending a weekly church or temple worship service.
There have been studies that show that children who attend religious (and private) schools do better academically, and those schools have a higher percentage of students who go on for post-secondary education. [Editor's note: Data from the National Education Longitudinal Survey, released in April 2007, and research by the Council for American Private Education, support this statement.]
Some religious schools are highly selective and admit only highly motivated students. Parents may conclude that will help their son or daughter get into a good college.
All of our three sons attended public schools through eighth grade. Our eldest went to public high school and did well there. Our middle son went to an excellent Jesuit prep school and he received a terrific education. Several of his classmates were Jewish, and they attended that school for the reasons above. Our youngest son started off at an all-boys Catholic high school but was not happy. He switched to a co-ed Catholic school and liked that much better.
That being said, my sister's daughters went to public schools and colleges and are wildly successful (and my sister saved a lot of money!). So much goes into the decision about where your child will thrive in high school, so you choose what feels right for you and your child. At the end of the day, it's your parenting and your expectations for—and support of—your child's education that probably matter most of all.
You may also be interested in the following: